This is the fourth post in my series of selected work done for CITY Newspaper in 2010. Be sure to check out the previous posts: PART 1 | PART 2 | PART 3.
Thanks to everyone who asked me where this post was, voiced encouragement over these recaps, and asked if I was planning to finish out the year — I am! I've just gotten a little behind due to some freelance projects and a rabid need to watch both seasons of Dollhouse as quickly as possible. Onward to the end of summer…

July 7 | I love opportunities to work more illustration into the paper. I was allowed to illustrate an article on shale drilling law in Albany with this image of gas drill towers rising out of the New York capital building, where the legislation was awaiting a decision.

July 14 | I kept meaning to write a blog post solely about this cover image, for CITY's gay pride cover story, but never got around to it. A lot went into it & there's a lot I wanted to point out, so I'll try to sum it up now. Models Zahra & Jennifer (owners of Hedonist chocolate in the South Wedge) were gracious enough to not only reverse their normal heights, but also wear an odd mix of base clothing that I then extensively changed in post (the smock doesn't exist at all — a texture I made and then "painted" onto her, digitally; Max's jeans were photographed, on him, days later). I spent several hours one afternoon having a lovely drive (in my crappy rental car) around Monroe & Livingston counties looking for American Gothic-esque houses with Katie. The one I used is actually a house I've always liked on Clover Street, and the red barn is from somewhere on the outskirts of Honeoye Falls. I did extensive work to both buildings: removing power lines & satellite dishes, filling out trees, touching up paint, etc. Oh, and my Dad found the pitchfork in my parents' barn. It's still leaning up against my desk at work. I should return that.

July 14 | Dollop, a cupcakery in Penfield, owned by Heather Saffer (above). Since Dollop specializes in customizing cupcakes on the fly, Heather put together three totally different tastes for me to photograph: A banana split (with cherry on top), pink lemonade, and a s'more. The banana split one came home to Adam and was actually really good after it'd been in the fridge for awhile!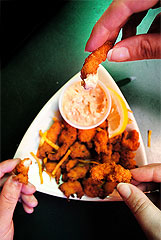 July 21 | Susie's article on cheap eats — food around Rochester for less than $10 — was an excellent idea, and a great resource to still have around. Out of all the restaurants mentioned, I was sent to four, for variety (top to bottom): Mise en Place for a roasted red beet salad, Rosey's Italian Cafe for the stuffed shells lunch, Peppermint's Family Restaurant for the Irish benedict, and Beale Street for the gumbo (and mud bug appetizer). Each restaurant was a charming experience in its own way. At Mise en Place, Brian Smith was added to my ever-growing list of hand models for posing for the cover shot, and I learned that I really like roast beets! | The entire staff at Rosey's were so intrigued at having a photographer around that they ALL stood and watched while I shot the table of food. | The owner of Peppermints seemed to be in a constant state of movement and was always cashing out customers, seating others, answering questions of the waitresses, or checking in on me and letting me know that "we're pals, now, and should get pints like buddies." | Beale Street was the token MAMA's House outing of the quartet, as none of us will pass up an opportunity for mud bugs and gumbo.

July 21 | My love affair with 1975 Gallery continues: pieces from "Wind of Change" by the artists of Tattoo Kamikaze, at Surface Salon. Eric Saner's "Do Unto Others" (top) featuring a ton of small designs in a big frame was a particular favorite of mine.

July 21 | School 46 in the Browncroft neighborhood. The architecture & general "feel" around this area is just wonderful: lovely houses with nice yards, old street lamps, and lots and lots of shady trees. Walks around the neighborhood are awesome, and I'm going to be really sad when we finally have to move to a different area of the city.

July 28 | On the other side of the coin, every now and then I'm assigned to cover a rough spot of town, like this ramshackle abandoned building on Jefferson Terrace. It's certainly not glamorous, but I think it helps to keep things in perspective. (This is an outtake from that shoot.)

August 4 | Shooting architecture in the late-afternoon sun? Awesome. There are so many wonderful angles around the old Midtown building (top two), and I don't think I'd ever been on the Xerox courtyard before, which itself has great possibility as a set. Everytime I see St. Joseph's park (bottom left) — a burnt-out church — I'm reminded of a scouting trip Katie, Adam, Dan and I went on one fall, but I've still never actually been inside as the gates are always locked. Similarly, even though my Dad works for Kodak (bottom right), I've never been inside their tower past the lobby. Someday… (This article was on MCC looking at various possible downtown sites to move to.)


August 4 | Hey look! Just a month after my previous news illustration, I got to do another one! Thanks news stories with your concepts that I find illustrateble!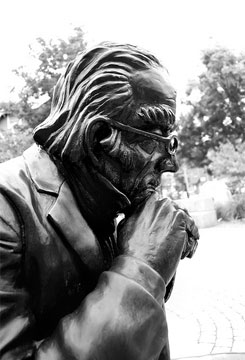 August 11 | (Left) A statue of Nathaniel Rochester in the South Wedge. (Right) Roger Hill, owner of Club Fabulous on Jefferson Avenue.

August 18 | I always *want* to post about work more frequently throughout the year, but never make the time for it. This week, however (August 18-24), I actually DID! Since a blog post solely devoted to everything in this issue already exists, I'm going to keep the descriptions here very short. | Photos and page layout (above) for Tim's cover story on Jean-Claude Brizard, superintendent of the Rochester City School District.

August 18 | (Left) A fire engine in its garage on University Avenue. (Right) Robin Weintraub, recycling advocate.

August 18 | Owner John Toscano in his Park Ave pizzeria, Brick 266.

August 18 | Work by Michael Michael Motorcycle, hanging at LUX Bar & Lounge in the South Wedge.

August 25 | I've always liked the look of this building, the First Universalist Church on South Clinton (around the corner from Geva, the Strong museum, and Xerox). It's architect, Claude Bragdon, was a really interesting guy who dabbled in several different medias and was the subject of two art exhibits in town that both opened over the summer.
There goes the summer! Student Survival Guide, CSA farms, and autumn are coming up next! Check back soon for Part 5!
Tags: City Newspaper, photography, Rochester